In recent years, Shopee sellers have taken over the world of E-commerce. So much so that 80 local sellers made more than RM1 million in sales within their first year on the platform in 2021 (#TECH: E-commerce growing, sellers thriving on Shopee). With more and more Shopee sellers popping up, you have to find a way to stand out in the crowd. Luckily, Shopee has a couple of built-in tools (Getting your first sale | Shopee MY Seller Education Hub) in their Marketing Centre that can help your E-commerce thrive on the platform:
1) Marketing Announcements
Most of the time, E-commerce owners are preoccupied with other tasks. So, to make sure you're up to date on all the latest seller activities, Shopee created a Marketing Announcement (What is Marketing Centre? – Marketing Announcement) section that informs you of all the seller activities and promotions that you can take part in to help boost your sales. By having a list of all the active promotions laid out, you won't have to scour the internet researching new promotions that are worth investing in. Instead, you can just check the Marketing Announcement box before planning your upcoming sales.
2) Shopee Events
The best way to increase your brand's awareness is by participating in Shopee events or campaigns (Promoting your products | Shopee MY Seller Education Hub). To help sellers boost their revenue, Shopee is constantly coming up with new events or campaigns that can increase your shop's traffic and help you acquire new customers. In fact, Shopee plans to launch four new premium campaigns in 2022 to increase the demand for luxury items (Shopee plans more sales events as it ramps up strategy this year | The Straits Times). You should also take note of:
i. Product Campaigns
If you just launched a new product, then you should definitely consider participating in a product campaign (Promoting your products | Shopee MY Seller Education Hub). Shopee uses product campaigns to help sellers be featured on Shopee's main homepage. This event offers great deals to customers which help to increase shop traffic and uplift sales.
ii. Voucher Campaigns
Just like the name implies, a voucher campaign (What is a Voucher Campaign? | Shopee MY Seller Education Hub) is an event that promotes vouchers from particular sellers. Not to be confused with a product campaign, this Shopee event focuses primarily on special vouchers offered by sellers. These vouchers can only be used on Shopee and are a great way to attract new customers. Ultimately, this would result in higher sales.
3) Promotional Tools
Shopee has an impressive list of marketing tools that can be used to create an upstream of revenue. Part of these tools includes promotional tools that give sellers the option of offering special deals or discounts for specific products. Shopee sellers can use these promotional tools to entice their customers to purchase more items: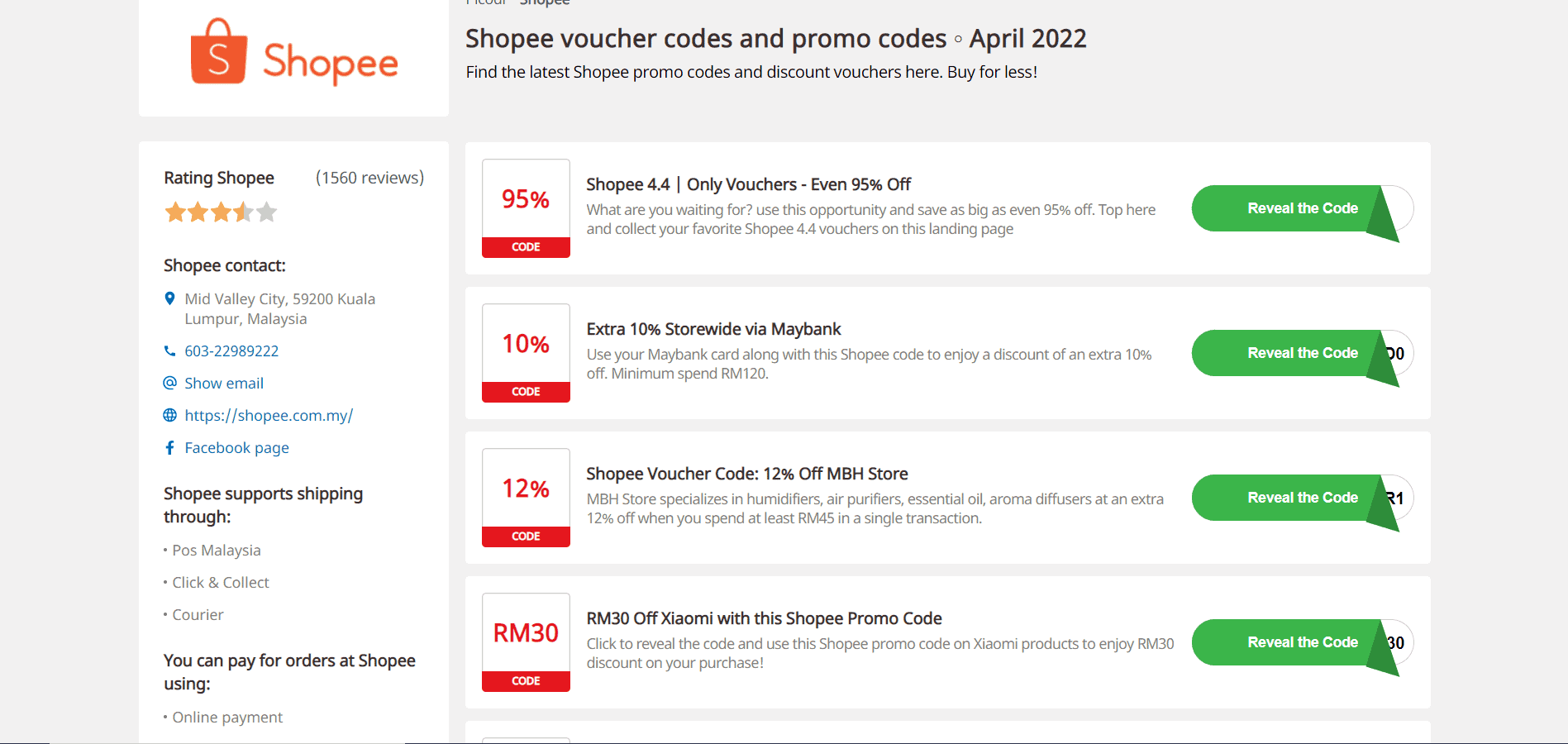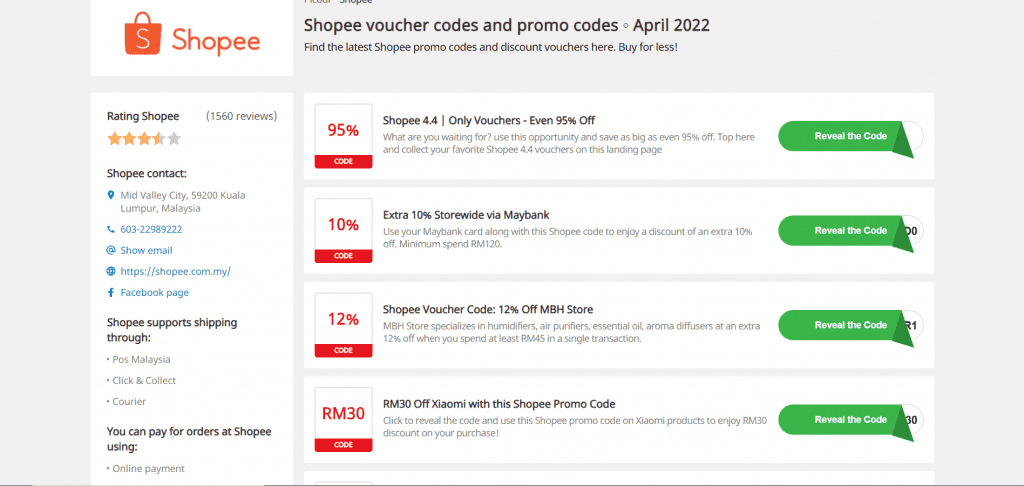 i. Vouchers
Sellers can edit vouchers on Shopee to encourage customers to meet a minimum spending requirement that will help increase revenue (Understanding product categories and attributes | Shopee MY Seller Education Hub). A great feature of Shopee is that it allows sellers to customise where they want their vouchers to be featured. They can choose to showcase these vouchers on their shop homepage, product page, shopping cart page, Shopee feed or Shopee live.
ii. Discount Promotions
With this tool, sellers can customise discounts for certain products for a limited period of time (Getting your first sale | Shopee MY Seller Education Hub). By offering discount promotions, it will help drive orders for your products because customers will be willing to spend more if they can get better deals. The discount labels that pop up also help your products stand out among other products and attract more clicks.
iii. Bundle Deals
This feature is a great way to entice your customers to purchase more products. The bundle deals tool (Getting your first sale | Shopee MY Seller Education Hub) lets you set exclusive discounts for a group of products. For instance, you can bundle files, books and stationary together to create new value for customers.
iv. Add-on Deals
Shopee sellers have the option to push sales of particular products by featuring them as an 'Add-on Deal' (About Add-on Deals – Shopee MY Education Hub). By using this feature, more customers will be attracted to your products because they'll get more items for a good price. Add-on Deals can benefit sellers by selling a higher volume of products at one go. But remember, this works best when used for complementary products because customers are more likely to buy products that can be used together.
4) Engagement Tools
The ultimate goal of running an E-commerce store is to build brand loyalty. One way to do this is by converting buyers into returning customers. Shopee offers engagement tools in their marketing centre that can help sellers achieve this goal easily. These engagement tools are:
i. Follow Prize
Sometimes customers visit your store because they stumbled across a product from it. But, more often than not, these customers don't revisit your store because they found another store selling the same item. To prevent this from happening, Shopee offers sellers the option to include follow prizes (What is Follow Prize? | Shopee MY Seller Education Hub) in their stores. Follow prizes like exclusive discounts or vouchers are given to new customers to encourage customers to follow and receive updates about your store. If you offer this option to your customers, they're more likely to purchase from you because they'll be getting more products for a cheaper price.
ii. Shopee Live
Live-streaming your E-commerce activities is a great way to boost store engagement. When sellers use Shopee Live (What is Shopee Live? | Shopee MY Seller Education Hub), they'll be able to interact with their customers in real-time. This helps to build brand loyalty because customers will feel comfortable asking questions about the products and they'll get to know your brand's story. If a customer finds your brand's story relatable, there's a higher chance of that customer being turned into a returning customer which will increase your customer retention rate.
5) Targeting Tools
Shopee is a massive E-commerce platform with millions of shoppers. In order to get the most value from your marketing budget, you should use Shopee's targeting tools. These tools will help to boost your shop traffic by promoting your products to the most relevant audience. By doing so, you'll have a higher chance of increasing your sales. Just use these two tools to make this vision a reality:
i. Shopee Ads
-Shopee offers sellers the choice to promote their products to a specific target group through the use of advertisements. There are three types of Shopee Ads (Promoting your products | Shopee MY Seller Education Hub) that can be used by sellers to advertise to their target market:
–Product Search Ads – These ads will pop up in the search results page if your ad contains the specific keyword that a user is looking for. Through this tool, your products will gain more exposure.
–Discovery Ads – This type of ad will show up in different parts of Shopee's platform. It's the perfect way to attract and direct buyers who are looking for similar or complementary products to your E-commerce store.
– Shop Ads – Not to be confused with product search ads, Shop Ads often appear at the very top of the search results page when customers are looking for a particular product. For example, if you include the keyword 'popcorn' in your shop name and a customer searches for this keyword. Your shop will show up at the very top of the results to entice customers to check out your E-commerce store.
ii. Top Picks
Sometimes customers are just browsing through your store to see if there's anything that they might be interested in. This is when the Top Picks (Promoting your products | Shopee MY Seller Education Hub) feature comes into play. As a seller, you can choose what items you want to showcase in your collection. You can have up to 10 collections with 4 to 8 featured products, but only one collection can be showcased at a time. This collection will be displayed on all your product pages, so that you can easily highlight the products you want to feature.
6) Chat Broadcast
If you have an ongoing promotion and want to drive traffic to your E-commerce store on Shopee, then you should consider using the Chat Broadcast feature (Creating Chat Broadcast (Shopee App) | Shopee MY Seller Education Hub). Shopee introduced this feature to allow sellers to send tailored messages to their followers, existing customers or potential customers. You can use this feature to raise brand awareness and entice your customers with exciting promotions.
Your Next Step:
At FlyBear, we can help you optimise your order fulfillment by picking and packing your products to ensure a safe and timely delivery. If you run an E-commerce store on Shopee, you can send the orders to us and we'll work on getting your order out to your customers. Our services are fast, efficient and secure. Rest assured that your products will be safely packed and delivered when you enlist our services. Get in touch with us to register today!