All over the world, the E-commerce market is growing rapidly. In Malaysia, it's predicted that the E-commerce industry will see a growth rate of 11.4% each year with an estimated $2.53 billion in revenue by the end of 2022 (Malaysia – E-commerce). This increase in consumer demand has led to more people adopting E-commerce as their preferred way of shopping. However, as the demand increases so does the supply. Ergo, a greater number of competitors have entered the market. With more and more people becoming interested in starting their own online businesses, entrepreneurs have had to come up with new ways to beat the competition. If you're an E-commerce business owner in Malaysia, here are 3 E-commerce trends that you can capitalize on:
Trend #1: Live Stream E-Commerce
Gone are the days when sales agents had to go door-to-door to convince customers to buy their products. Ever since the rise of social media, many online sellers have started to employ the use of live streaming to market their goods. Live streaming provides customers with an interactive experience that allows them to ask questions in real time and hear genuine reviews from product experts or other customers. It's been noted that online shoppers generally prefer to watch a live stream video of a product/service as compared to reading a highly detailed social media post about it. Simply put, live streaming E-commerce is a great way for one seller to interact with thousands of potential customers at the same time.
In Malaysia, Facebook Live and Shopee Live are the two most popular platforms for live streaming. Facebook Live (Live Stream an Event on Facebook | Facebook Business Help Center) is a feature that was introduced by Facebook in 2015. It allows users to broadcast real-time videos and share them with their followers. Throughout the live stream, Facebook will record the video and users have the option to post this recording on their main feed after the live stream has ended. Similarly, Shopee Live (Introduction to Shopee LIVE | Shopee MY Seller Education Hub) also lets users interact with their customers in real-time. Despite only being launched in 2019, Shopee Live has quickly become the go-to platform for online sellers to promote their products or events. In comparison to Facebook Live, Shopee Live has become a more popular platform for live streaming because Shopee is, primarily, an online shopping platform. Nevertheless, both platforms are highly effective in attracting more customers and boosting your E-commerce sales.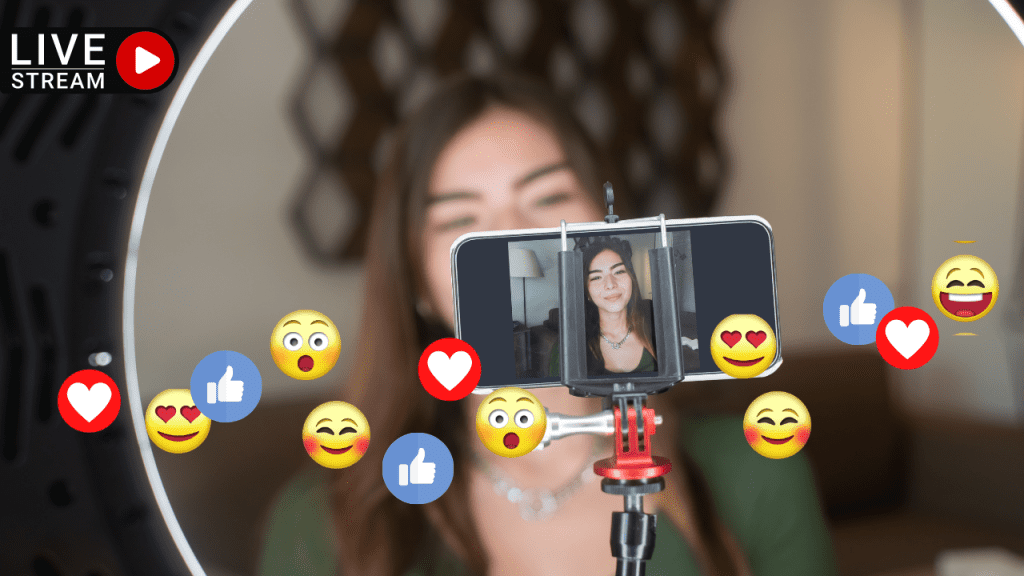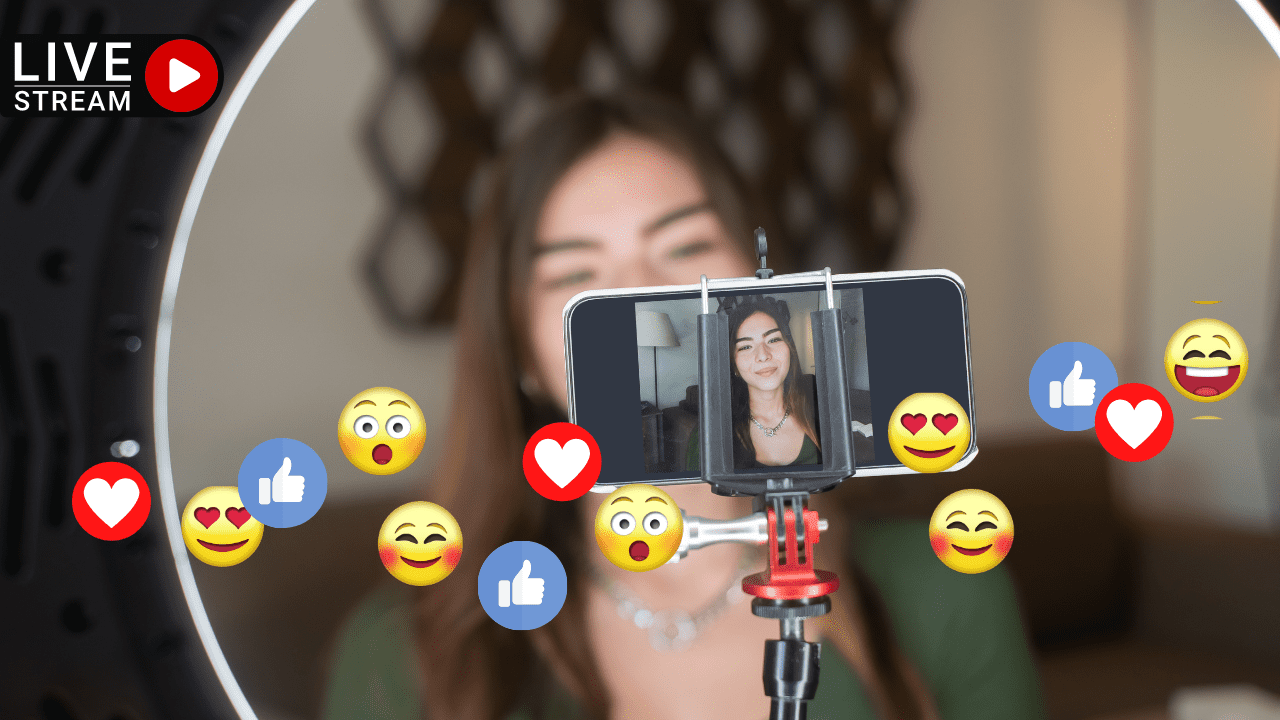 Live streaming E-commerce has become a particularly useful tool for marketing because it gives E-commerce owners the opportunity to share their brand's story and showcase how their products can be used in a customer's daily life. It's also a fun and simple way to create bonds with customers! Having said this, bringing live stream E-commerce into play is a promising way to boost brand awareness, tap into different markets and encourage customer loyalty. So, you should definitely consider using this marketing tactic to get ahead of the competition.
Trend #2: Social Media Shops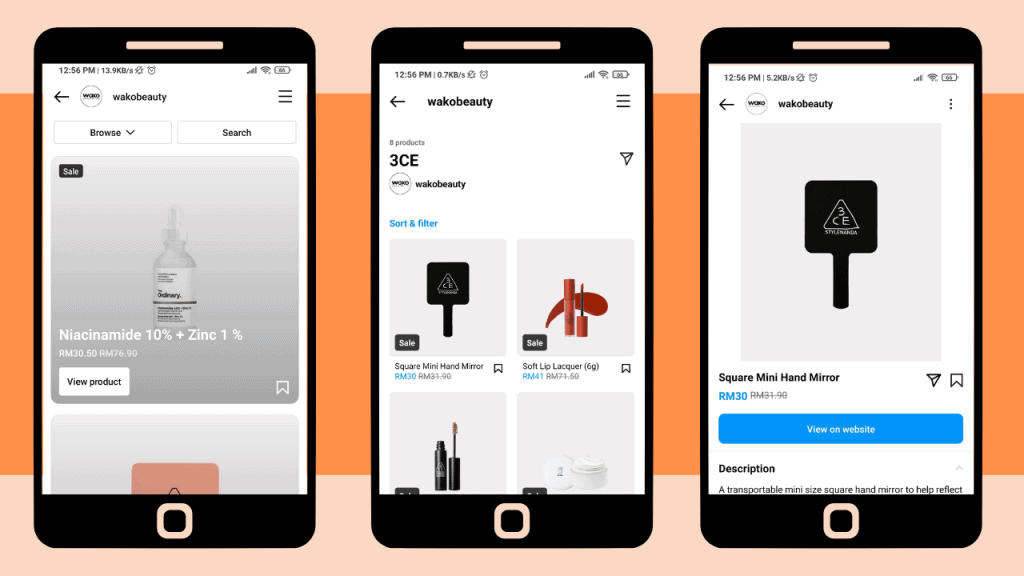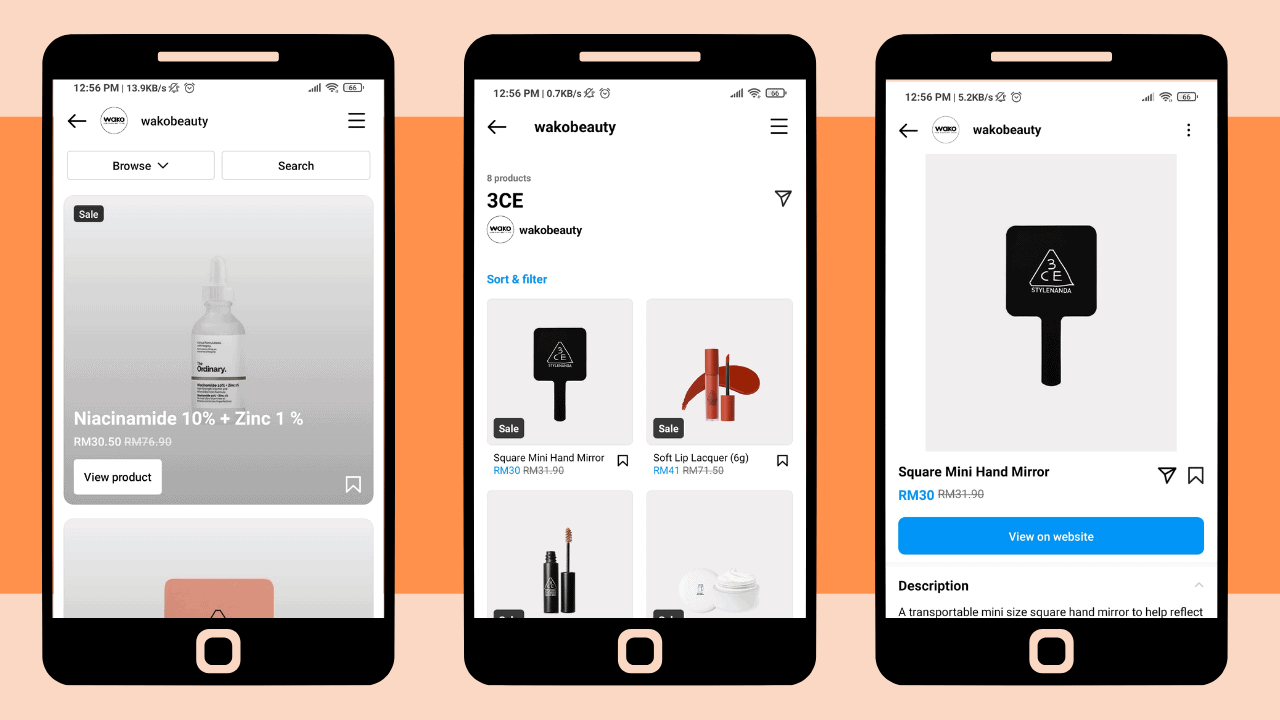 Back when social media platforms were first introduced, people mainly used them to communicate with their friends and family. As of January 2021, it was recorded that about 86% of Malaysians were active social media users (Malaysia: social media penetration 2021 | Statista). With social media evolving from just a communication platform to a business platform as well, it would be a smart move to start maximising your E-commerce reach through social media. In fact, world renowned entrepreneur and tech developer, Mark Zuckerberg, is aware of Facebook's and Instagram's potential to help E-commerce business owners. So, he added a new 'Shopping' feature on Facebook and Instagram that changed the way people used social media. 
Instagram Shopping
Instagram Shopping, which is more commonly known as IG Shop (What Is Instagram Shopping? Everything You Need To Get Started), is a feature that allows online business owners to create a shareable and digital catalogue of their products on Instagram. With the introduction of this feature, customers are able to purchase items directly from Instagram or use the IG Shop as a gateway to the E-commerce webstore. However, you would need to set up a webstore beforehand if you want to link it to your IG Shop. In order to profit from this feature, E-commerce business owners should look into these 4 added benefits:
i) Product Details Page – Using high resolution pictures and providing a detailed product description will help to ensure that your customers have all the information they need before deciding to make a purchase.
ii) Collections – This feature provides a seamless shopping experience for your customers as it allows you to categorize products under one broad topic like "Sun, Waves and Sand" or "Gifts Under RM50".
iii) Shopping Tags – With this feature, you'll be able to include shopping tags in your posts that link directly to the product featured on your IG Shop. Ultimately, this will encourage your customers to purchase from your business as it lessens the hassle of searching for that particular product featured in the Instagram post.
iv) Checkout – This feature allows customers to directly purchase from the app without having to visit a third-party website, creating convenience for your customers.
Facebook Shopping
Many online business owners are no stranger to selling their products on Facebook. Before the addition of the 'Shopping' feature, these entrepreneurs used ordinary Facebook pages as their digital catalogues. With Facebook Shops, online business owners have the ability to feature an unlimited number of products and promote different promotions. If you're an E-commerce owner, then 'Facebook Shops' (Introducing Facebook Shops, a New Online Shopping Experience | Meta for Business) will offer you the chance to:
i) Integrate your preexisting IG Shop with your FB Shop.
ii) Customise your FB Shop to match your brand personality.
iii) Easily communicate with your customers via Messenger or WhatsApp.
v) Create collections to further enhance your customer's shopping experience.
Trend #3: TikTok's Integration with Shopify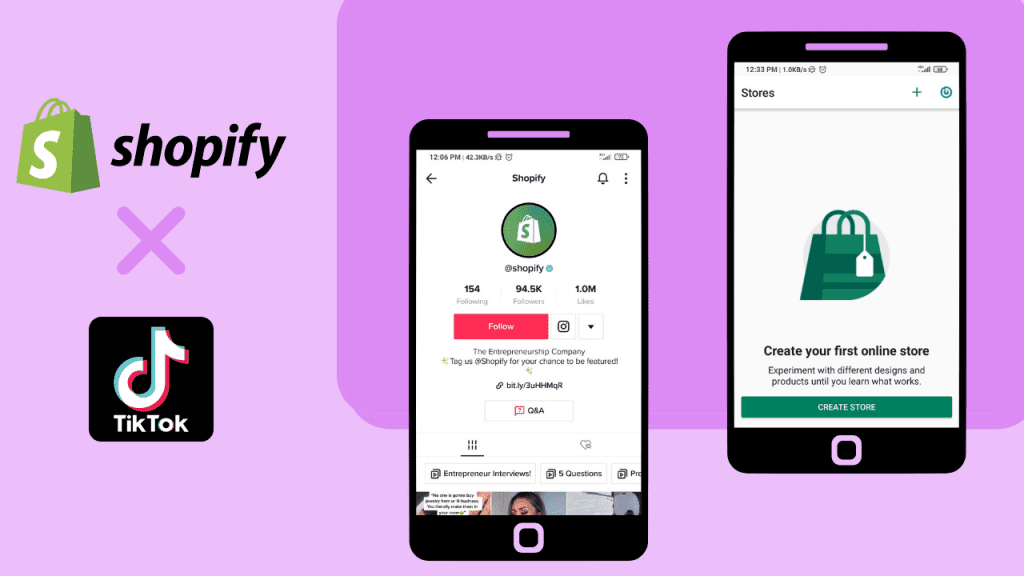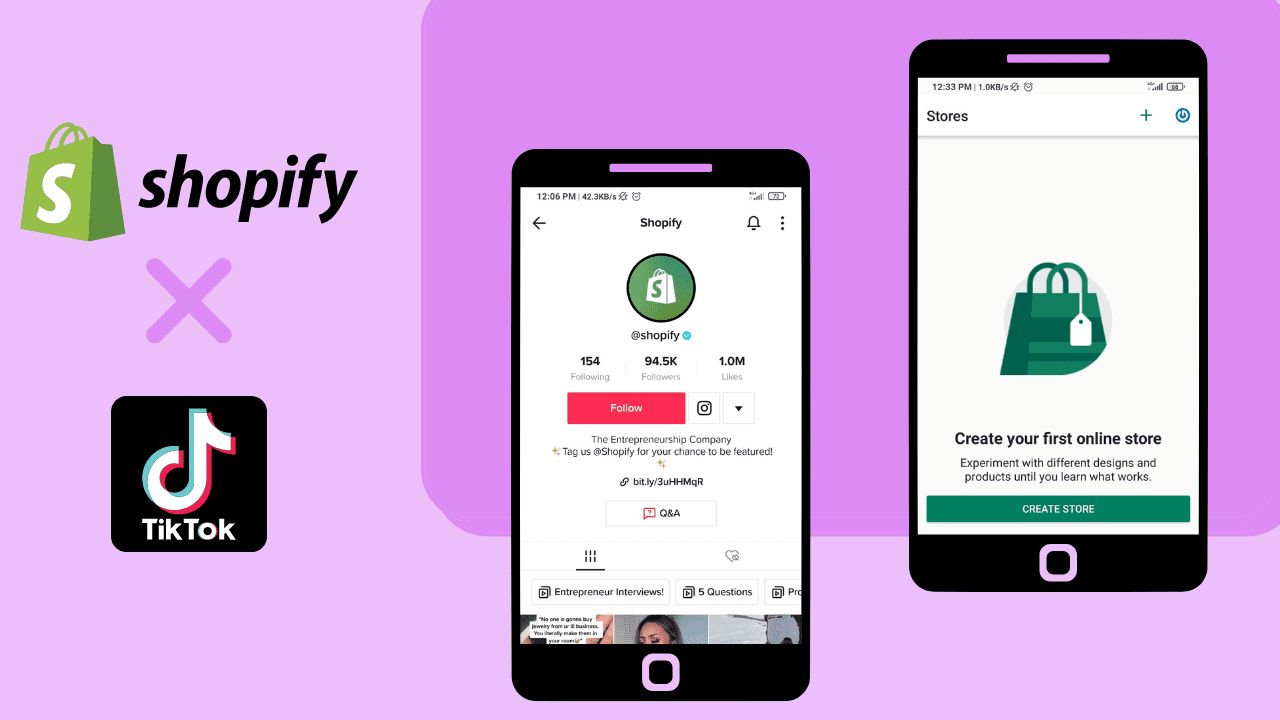 It's no secret that TikTok (What is TikTok? – The Fastest Growing Social Media App Uncovered) quickly became everyone's favorite social media app. This is largely due to their effective algorithm that shows users the kind of video content that they enjoy. But now, they're expanding into the world of E-commerce by integrating with Shopify (What is Shopify? How to Start Selling on Shopify (2022)). With over 1 million merchants, Shopify wanted to help them market their products to the younger generation who are mostly active on TikTok.
So, Shopify proposed the idea of integration to TikTok. Now these merchants have the option of adding a 'Shopping' tab to their TikTok accounts. E-commerce owners who have set up a TikTok Business account will also be able to sync their digital catalogues to their TikTok accounts with a link that directs customers to their webstore. But this feature isn't exclusive to just E-commerce owners. Thanks to Shopify, ordinary users can now include product tags in their TikTok videos that will link directly to the Shopify merchant's account. This integration is the perfect way to gain organic views on videos while subtly promoting various products.
If you run an E-commerce store on Shopify, then you should definitely set up a TikTok account as well because you'll be able to create TikTok ads directly from your Shopify store making it easier for you to attract new customers without any additional costs. Furthermore, you'll be able to easily track the progress of your ad campaigns as well as manage your ads and campaigns within Shopify itself. So, don't wait any longer! Link your TikTok account with your Shopify account to start using these features today.
Need extra time to hop on these trends?
While you're working on ways to expand your E-commerce business, let FlyBear handle all that menial work for you, like picking and packing products, for you. We'll work with you and assist you in handling your orders so that you can focus on growing your business exponentially. With FlyBear as your partners, we'll pack your orders and work with your delivery partners to ensure a smooth and timely delivery. As long as FlyBear is here, you'll never have to worry about unhappy customers again!